Tic Tac Toe Game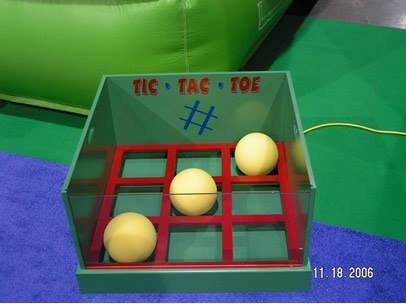 Description
This Tic Tac Toe Carnival Game is al all-time classic and remains fun to play for all ages!
The goal is to toss the whiffle balls so that they line up in a row -- either all across, all down, or on either of the two diagonals (as shown). If a player gets all three in a row -- he or she is the winner!
Depending on the age of the player, you can give them a chance to win with 3 or 5 balls and the distance of the toss can be adjusted to increase/decrease the level of difficulty.
Carnival Games Los Angeles, Carnival Games Long Beach, Carnival Games Downey, Custom Carnival Games Orange County, Whittier Carnival Games, Carnival Games, School Carnival Games Los Angeles, School Carnival Games, Beverly Hills, Carnival Game Rental Carson, Carnival Game Rental Maywood, Ca 90270