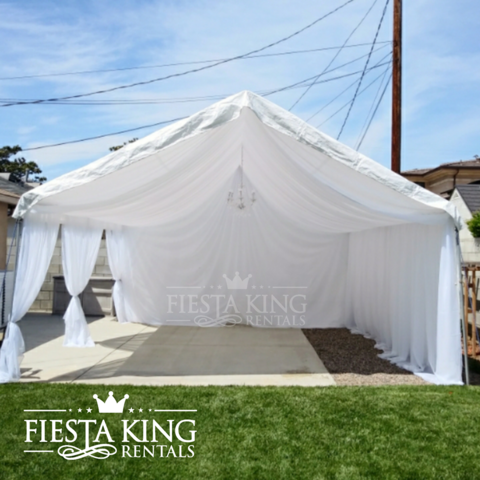 16'x20' Canopy Full Draped
Give your event a stunning look with our full draped canopy! This 16'x20' Full Draped Canopy is great for small weddings, baby showers, outdoor birthday parties, corporate events, church event or any special occassion. This full draped canopy gives your guests shade and a fresh place to be at. Under the 16'x20' full draped canopy you can have either (5) 48" round tables with 30 to 35 chairs or (6) 6ft rectangular tables with 36 chairs.
Price Includes:
-16x20 Canopy
-Full Drape
-One chandelier
-Installation
(Side Walls and Front/Back Walls +$10 Each)
Note: Additional chandeliers are an extra cost.
Special instructions:
*Setup area
needs to be clear of any furniture, trees and tree branches, electrical wires and any items that might prevent the installation.
* Customer is responsible to measure the setup area
and to make sure the canopy fits perfectly.
Delivery fee may apply

*Please note that might take up to 4hrs to complete the installation